AMERIPEN's first-of-its-kind research study, Economic Impact of State Recycling Market Development: 1990-2023, reveals the cumulative economic impact of three decades of state recycling market development. Researched and analyzed by John Dunham and Associates, the report offers in-depth analysis of material sectors, case studies from active development centers, and insight to encourage additional conversation and development.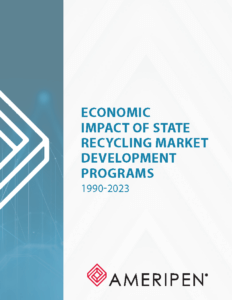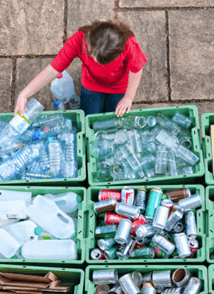 While economic development centers are budding throughout the country and generating their own data, there has yet to be an assessment of the cumulative economic impact of all state recycling market development programs. AMERIPEN's study aimed to close that gap by evaluating 24 recycling-dependent industries over the past three decades, predominately emphasizing packaging and related materials. After establishing the breakdown of recyclable materials to review, the study then dug into the patterns across these materials within the 19 different states that either have their own development program or are part of a regional effort—versus states that did not have any documented recycling market development programs.
The definition, history, and value of state market development efforts

Background on current efforts including case studies from Michigan and South Carolina

The overall economic impact of recycling market centers, including jobs, payroll, and total impact in dollars, over the past 30 years

Impacts of recycling market centers based on material types

How recycling market centers play a valuable role with industry investment

Next steps for research and additional recycling market development
John Dunham & Associates – John Dunham & Associates (JDA) is a leading economic consulting firm specializing in the economics of fast-moving issues. JDA is an expert at translating complex economic concepts into clear, easily understandable messages that can be transmitted to any audience. JDA's clients include a wide variety of businesses and organizations, including some of the largest companies in America.
John Dunham is a professional economist with nearly 40 years of experience. He holds a Master of Arts degree in Economics from the New School for Social Research as well as a Master of Business Administration from Columbia University. He also has a professional certificate in Logistics from New York University. Mr. Dunham has worked as a manager and an analyst in both the public and private sectors. He has experience in conducting cost-benefit modeling, industry analysis, transportation analysis, economic research, and tax and fiscal analysis. As the Chief Domestic Economist for Philip Morris, he developed tax analysis programs, increased cost-center productivity, and created economic research operations. He has presented testimony on economic and technical issues in federal court and before federal and state agencies.